Shopping Cart
Your Cart is Empty
There was an error with PayPal
Click here to try again
Thank you for your business!
You should be receiving an order confirmation from Paypal shortly.
Exit Shopping Cart
Many people struggle at some point to find enough time or motivation to write or do whatever it is that brings satisfaction to their creativity.
Let me tell you this:  You're not alone.
In your spare time, it may be the house needs cleaning or DIY doing; you may have social calls to make, family to spend time with…you may even be studying or you may just be plain tired after a busy week. You could even be one of the lucky ones with no plans this weekend, except to sleep in (if so, I'm envious, because I have a growing list of DIY to do).
Regardless of your situation, chances are you'll agree with the following statement:  Life can be a juggling act.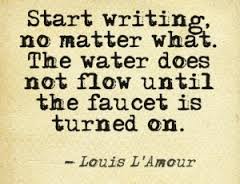 Therefore I want to challenge you to consider the following as often as possible:  TAKE TIME TO NURTURE YOUR CREATIVITY.
Like anything, if you regularly practice your craft you will get better at it. Did you know that it takes ten thousand hours to become an expert at something? That's about five years of full-time application. The point is, if you don't practice enough, how can you possibly improve? That said, five years of full-time practice is pretty daunting whichever way you look at it. All we have to do is start somewhere. A wise person once asked:
Q.  How do you eat an elephant?
A.  I'm sure you know the answer to that already! (One bite at a time).
Many people fit writing around their busy lives. With this in mind, I'd like to present you with a simple 'spare time' challenge that will help you to write more regularly and thus nurture your creativity. Because I'm in the book publishing business, naturally it will be rather writing-centric. All you have to do is make time for it! So, here goes:(
1.  Turn on your laptop or computer.
2.  Don't worry about what you have to say.
3.  Just write. The words will come.
Is that all I have to do? I hear you ask.
Yes, it really is. Go on, try it! And while you're at it, give yourself permission to spend more time nurturing your creativity.
May you put your best foot forward,

Lara
P.S. If you liked this, join our free email newsletter list and we'll send you updates about our books and other exciting stuff! You can do that here.
Categories: Consider This
Comments are disabled.
/