Shopping Cart
Your Cart is Empty
There was an error with PayPal
Click here to try again
Thank you for your business!
You should be receiving an order confirmation from Paypal shortly.
Exit Shopping Cart
My parents who were avid readers and hoarders shaped me into a bookish child. I devoured everything from Dennis Wheatley to Emily Bronte, and my love affair with Puffin books culminated with a Club badge.
I'll never forget my first childhood visit to our local library in Dorset where I encountered Orlando the Marmalade Cat. I had discovered a place where I could find more books than I could ever read. It was a revelation. Fast forward a few years to East London, where I moved with my sister and mother. By now I was reading Freaky Friday, Are you there, God? It's me, Margaret and classics like War and Peace, borrowed from Whitechapel Library which was then at the end of Brick Lane. All through university and afterwards, reading continued to be my passion.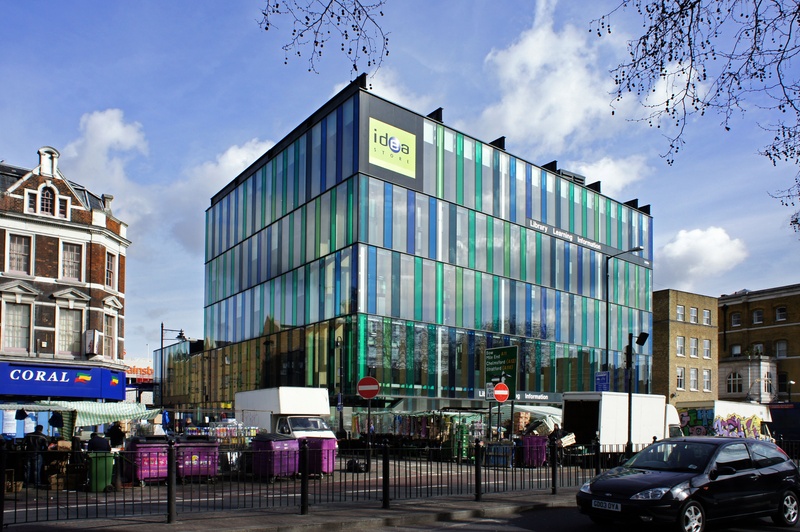 Some of my favourite haunts now that I've returned to East London are the Idea Stores in Bow and Whitechapel, part of a successful, late 90's libraries initiative.
Recently, I caught up with Kate Pitman, Idea Store development manager. "Hardly anyone ever set foot in libraries," she said. She explained that in the late 90s, at the tail end of the Tory regime, there was no investment and the libraries were in no longer easy to get to locations. "Part of a spiral of decline," Kate told me. "Believe it or not there were more libraries in Tower Hamlets per capita than in any other inner London borough."
In 1999 the council reviewed its underperforming libraries and undertook a huge public consultation, after which the decision was made to close most of the older libraries and build new ones that would deliver more books, better IT, convenient locations and information about council services. Crucially, it was decided that these new "Idea Stores" would house the council's also-suffering Adult Education services, thus bringing learning and reading together.
The imposing Idea Store in Whitechapel is a spacious, modern building, designed by David Adjaye. Its striped, glass frontage echoes the stallholders' awnings at nearby Whitechapel Market. More recently it's where I learned business planning and then launched a retail business, and where when they were small, I took my kids to borrow armfuls of books from the Children's Library. I also taught English for Speakers of Other Languages to women in the borough and the library opened up its learning labs for them to learn digital skills. It didn't stop there. I joined various creative writing classes and at a library-hosted literary event read a short story of mine to an audience for the first time. In the decade after Ideas Stores were introduced, their use has increased from half a million to four million people. They continue to offer a huge range of activities for people in the boroughs they serve.
But how safe is their future? Tower Hamlets Council has lost nearly half of its core funding since 2010 and through a leaflet they recently asked locals to answer the difficult question: what services would they prefer to have cut to save £58 million by 2020 from their annual budget. Continuing government budget squeezes sees councils spending less and slashing their library services. Nationally, the number of libraries has fallen by over 6% and qualified librarian numbers have reduced by a quarter since 2010. Expenditure on public libraries in England fell by £69m in three years. The number of books has reduced by over 20m in five years. The UK features at the bottom of teenage literacy league tables among 23 developed nations. You do the maths.
I asked Kate Pitman what makes libraries so important. "We contribute to quality of life, creativity, education, access to technology, employment and mental health," she answered. "We can give children books for free, they can take risks, swap books if they don't like them. It's a universal benefit, not just a safety net for the poor … Libraries are free, democratic, have shared access. They belong to everyone."
How can you help? Advice from CILIP (Chartered Institute of Library and Information Professionals):
• Tell your local authority what you get from visiting your local library.
• When local authorities plan changes, make your views known.
• Form friends' groups to support and work with your library.
• Join campaigns, such as CILIP's My Library By Right
• Write to your local MP about why libraries matter and why their future should be higher up Westminster's agenda.
Tabitha Potts is Author of The Bells of London Town, one of the prizewinning short stories included in Brick Lane Publishing's newest book, Brick Lane Tales.
Categories: Author Entries , Publishing News, Consider This
Comments are disabled.
/